Welcome

Welcome to the One Piece Role-Play wiki!
---
Forum · Manual of Style · Administrators · Copyrights · Templates
---
Fifty years have passed since the notorious Monkey D. Luffy was crowned as the Pirate King. Those who wrecked havoc upon the seas are now long gone, creating opportunity for another generation. The Straw Hats themselves have disappeared --whether they have died or retired is currently unknown. One Piece, however, was once more confirmed to exist and once more hidden away from plain view, leading to a new era of pirates. The world has been impacted significantly, and new forces have been established in order to maintain the balance.
Are you a fan of the One Piece franchise? Have you ever wanted to create your own pirate, marine or even your own devil fruit? Well, look no further, because your dream has finally arrived. We only ask that you provide us with your best effort and nothing less. Enjoy your stay!
---
We currently have 95,570 edits to 3,842 articles and 11,632 images on this wiki. Operating since April 14th, 2015!

Featured Article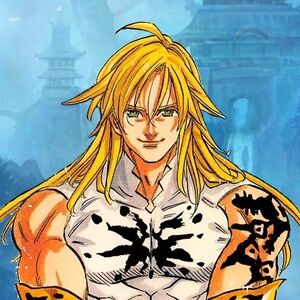 "Berserker" Cain D. Abel, born as Ansem D. Cain, is the acting Captain of the Holiday Pirates and a major ally of the Black Widow Pirates. At the islet of Yamato, he was a former slave to a World Noble: Roosevelt, who had families from a neighbouring island work in a mining site.
When part of the Xros Pirates, he used to oversee and help organize the Numerals and other of their affiliates.
It has been revealed that Abel essentially houses other people inside his mind through the power of his Devil Fruit: Kozuki Adaemon, the previous heir of Wano Country, Lambert Evelyn, the Captain of the Holiday Pirates, Vryrch Seth, the former captain of the infamous Hunting Pirates, and Ansem D. Abel, his late brother.
Abel is currently worth

1,730,000,000 for the many deeds and atrocities he has comitted against the Government and world at large, recognized as quite the dangerous individual.
Main article: Cain D. Abel
Main Poll
Our Roleplays & Stories!
Who will emerge victorious in this legendary clash?
Community content is available under
CC-BY-SA
unless otherwise noted.